Posted by james todd, Last modified by james todd on 20 August 2015 07:49 AM
Bitdefender 2014 Adding Exceptions/Exclusions
Bitdefender gives you the option to exclude specific files, folders or even traffic from being scanned as long as you know they are safe.
You can add exceptions for On-access and On-demand scanning as follows:
Open the Bitdefender window and go to Settings.
In the Settings Overview window select Antivirus.
In the Antivirus Settings window, select the Exclusions tab.
Make sure Exclusions for files is turned on by clicking the switch.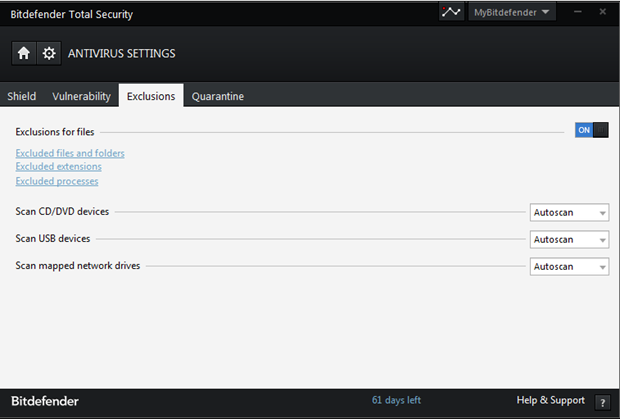 Click the Excluded files and folders link.
Click the Add button, located at the top of the exclusions table.
Click Browse, select the folder that you want to be excluded from scanning. Make sure it's excluded for both "on-access and "on-demand" scanning and then click OK.
Click Add and then click OK to save the changes and close the window.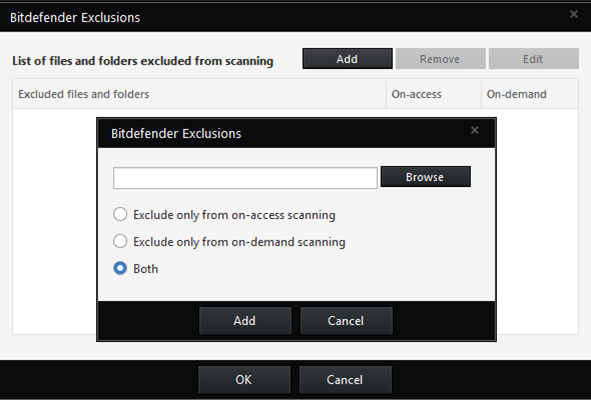 Then click on "Excluded processes", add the .exe file of the application and make sure it is "Allowed" > click "Add" and then on Close. (this will exclude them from being monitorized by theAVC and IDS)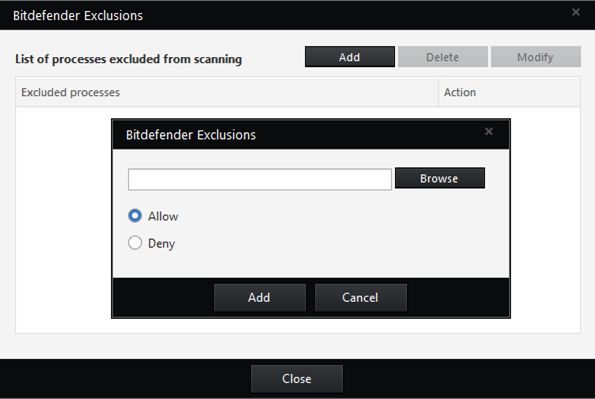 Also you can add a Firewall rule for an application:
Go to the Settings overview window, and then click on the Firewall panel.
Click on Application rules, and then select Browse.
Browse to the application and click Ok, and then make sure the following settings are enabled:
- Select both "Local Address" and "Remote Address" boxes
- At "Network type" select "Trusted", "Home/Office", "Public", "Untrusted".
- Events > select all the boxes (Listen, Traffic, Connect)
- Protocol: Any
- Direction: Both
- IP version: Any
- Permission: Allow
Click on OK and close the Rules window.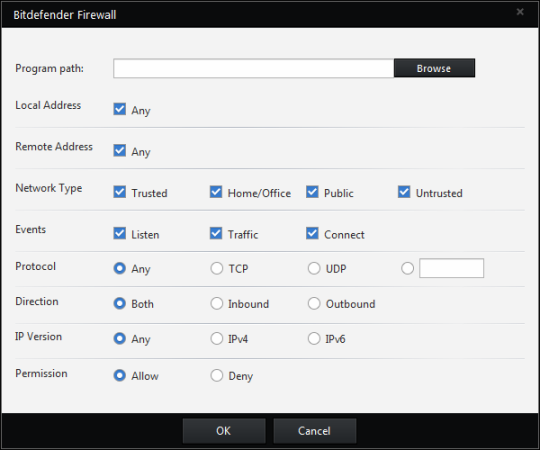 In addition, you can manually create a Bitdefender Trusted Zone between the computer and an IP address:
Go to the Settings overview window > Firewall > Adapter rules.
Click on Add Zone.
Enter the IP address of the device and select Allowed, and then click on OK; you should see a zone being added in the Zones list.
---