Windows 10 Operating System
Posted by james todd on 02 August 2015 01:46 PM
8/2/15 - As of a few days ago Microsoft released Windows 10 -it's newest Operating System. We are still trying to determine
if our programs have any problems running on this newest OS. We have heard from both Song Surgeon and Video Surgeon users
who have successfully installed the program on their Win 10 machines and have it running.


There have been a couple of curious things that have been reported. If you are having problems on Win 10, I'd encourage you to
investigate these things.

A Song Surgeon customer reported that on his Microsoft Surface (Win 10) the program wouldn't run. He changed the setting on this
machine from "Tablet" to "Computer" and that solved the problem.
A Video Surgeon customer reported that after installing Video Surgeon on his Windows 10 machine, he couldn't see any of his
project files or videos. He solved this problem by change the permissions settings to "Interactive" on the folder where these files
were stored as shown below.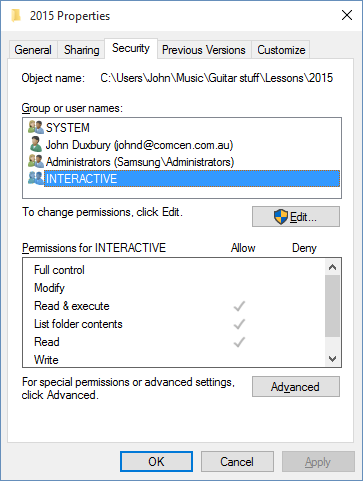 ---